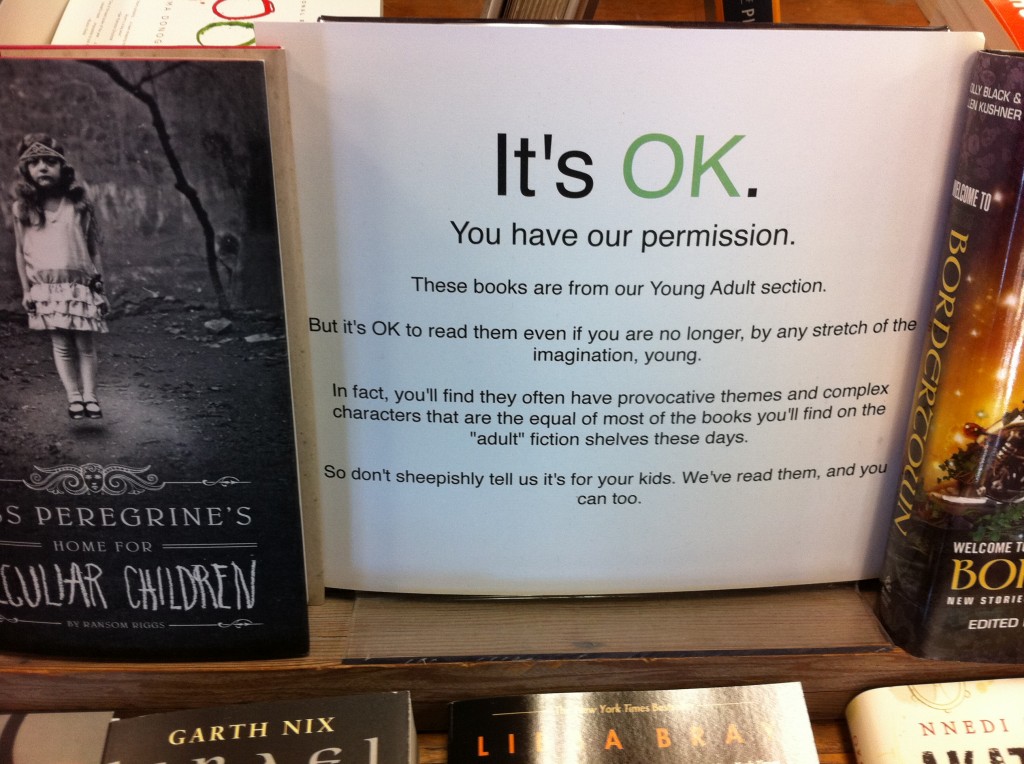 Congratulations if you made it through all my previous Armchair BEA posts until this one. Because, actually, this might be the only post to take seriously. I have stated often enough that I have a loyalty problem. Which means, I am loyal to YA - so much, actually, that I won't read anything else other than by force.
Today should be my day, then. Ya is my home and my castle (at this point, forget the part about today's post not being as useless as the last ones. I don't know what's wrong with me.).
I always thought I loved YA literature so much, because the characters were my age and going through the same things I did. No job or career decisions to make, no children to feed, you get the gist.
Just school and friends and drama and boys and pressure and generally hating life.
Now, though, I think it might be something else entirely that binds me to the genre.
With my 18th birthday coming up, noone - especially not the people who know me in person - would consider me an adult - or even just too old for Young Adult.
Anyway, sometimes I get nervous, thinking I might not like to read books set in highschools anymore once I have moved on to University. Or that I could stop caring about the problems of fifteen year-olds once I myself turn 23.
I'm pretty sure that won't happen so soon, though. Of course, I guess the day will come when I start shifting focus. I mean, I do now. I don't completely ignore the Adult shelves in my library anymore and I am tinkering with the idea of even reading one adult book every month just to get into it and see if I like it. YA and I won't be exclusive forever (This is ridiculous. Seriously, I need a boyfriend.)
However, I don't know if I could ever really part with the out-of -this world community, the fandom, the spirit, even that comes with YA.
Undoubtedly, Adult has a much bigger audience all around the world and appears in newspapers and rankings and the media in genereal a lot more often.
What I miss in the Adult genre, though, is the excitement over every.single.new. book. coming out. About every new and awesome author. Adults (most of the time) don't do fan-art, they don't create bookspine poems, they don't email their favorite authors and do a happy duck dance when they get an answer (at least, I don't think so. But what do I know about adulthood???)
YA authors have a lot to do, also. They have to make up for everything our teachers and parents failed to teach us.
Seriously. without Meg Cabot, her blog and The Princess Diaries I would have never, ever learned to go through life with a big portion of humor.
Without Sarah Dessen I wouldn't ever have understood that it's okay to feel crushed and sad and unhappy. I would have never learned that the meaning of family is not set in stone, that family can be whoever feels like family to you.
Cassandra Clare and JK Rowling taught me creativity, expecting magic behind every closed door or hidden room.
Stuffing it all in my virtual nutshell, YA probably has the most vulnerable audience. Teens all over the world are looking for answers, searching for a meaning, for something they haven't heard of and been told in their lives. Teens are passionate about what they do, they still believe they can change the world (or, they - we should, at least) and that's why I think there's a very special spirit in YA that I just haven't found in any other genre.