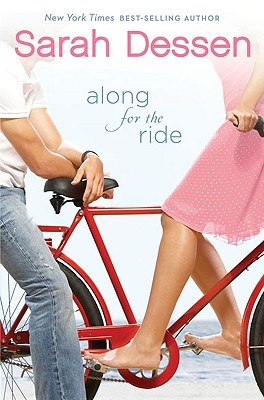 It's been so long since Auden slept at night. Ever since her parents' divorce—or since the fighting started. Now she has the chance to spend a carefree summer with her dad and his new family in the charming beach town where they live.
A job in a clothes boutique introduces Auden to the world of girls: their talk, their friendship, their crushes. She missed out on all that, too busy being the perfect daughter to her demanding mother. Then she meets Eli, an intriguing loner and a fellow insomniac who becomes her guide to the nocturnal world of the town. Together they embark on parallel quests: for Auden, to experience the carefree teenage life she's been denied; for Eli, to come to terms with the guilt he feels for the death of a friend.
In her signature pitch-perfect style, Sarah Dessen explores the hearts of two lonely people learning to connect.
Published June 16th 2009 by Viking Books for Young Readers (first published 2004)
I have a conspiracy to reveal. Sarah Dessen had us all fooled.
Throughout our (younger) teenage years, we all thought she had peeked into our dreams, into our wishes and worries when we were asleep at night and then put them down in paper, along with a few phrases of really good advice.
We thought that, with every one of her books, she just hit the nerve! She just understood!
And in a way, we were right. Sarah Dessen does understand. But reading Along for the Ride, I realized that it may not be my head she peeked into. Maybe neither of our heads. Maybe it is just her own and her memory and experience of growing up and growing apart and growing together.
Now, this is not necessarily a bad thing. I understand most authors write what they know. And Sarah Dessen certainly does it in an enjoyable way. Her style is subtle, easy. She uses her words to tell a story, nothing more. Her language does not translate the feelings, the emotions. That's - surprisingly - what the plot does. And what her words and sentences do.
Often times this ends in her telling instead of showing - but not in a bad way! Throughout most of the book, there are no lectures, just subtle hints of advice, of guidance, of thoughts that may be right or may be wrong, but that are definitely worth thinking about.
Her main character, Auden, is certainly likeable, not too average, not too perfect and not too imperfect, either. But just like language, Auden seems to be a device to bring the message across. And neither of the other character serve any other purpose. Outgoing, indecisive and adventurous Hollis, girly - but - smart Maggie, girly - but - tough Heidi, cowardly - Dad and Icequeen - Mom - each of these characters, eventually, only portrayed one way to live and delivered the message that living life - in the end - is accepting that there's always more ways than one, that you don't always have to decide and that you will feel the fullest, the most you, if you let them all in and put them all out there.
So, Along for the Ride has an important message that will make every reader feel a lot better about them and their lives. This message - and the feeling of being understood - is the main reason I would recommend the novel. The simple language, character and plot make it an easy and quick read. However, this simplicity also takes some things from the book that I think could have been there: a little bit more depth in the characters, a little bit more confrontation between them, certainly a more varied and unpredictable plot, less cliché metaphors.
Two last points: The love story in this book left me completely unattached, BUT Auden's mother is hilarious and the humour that is thrown into this story from time to time definitely makes it a good Spring and Summer read!!!