Oh, yes - it's time again! After I pretty much sucked at the Meg-A-Readers Readathon a few weeks ago (I just didn't have the time) I decided to start my first week of summer vacation (yay!!!!) curled up on my bed with a bunch of books.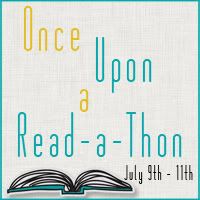 Again because it is the end of school for me and also because I'm quite happy about my grades this year I rewarded myself with a Kindle Touch - I've wanted one for quite some time now and I'm really happy to hold it in my hands :)
So...what I wanted to say in the first place was: Once Upon a Read-a-Thon is going to start with an EGalley for me...
....so that I can try out my new baby :)
Then, though, duty calls: I will try to get through my little pile of review books and egalleys that can't be read on the Kindle :/
And finally (although I doubt I'll get to these) I plan on reading two Sarah Dessen books that I've been eyeing for weeks now: